Bright Beer Tanks

– cylindrical pressure tanks for the final preparation of beer before its bottling

BBT, Bright Beer Tanks, cylindrical pressure tanks, serving tanks, beer final conditioning tanks, beer storage tanks – these are the most common terms, including the same class of special pressure vessels designed to preparation of carbonated beer before its bottling, filling into kegs or other containers. Purified carbonated beer is pushed from lager beer tanks or cylindrically-conical tanks into pressure storage beer tank under pressure up to 3.0 bar.
This tank type also serves as a target tank when beer filtering or beer pasteurisation.
---
Description of the cylindrical beer pressure tank, vertical, insulated :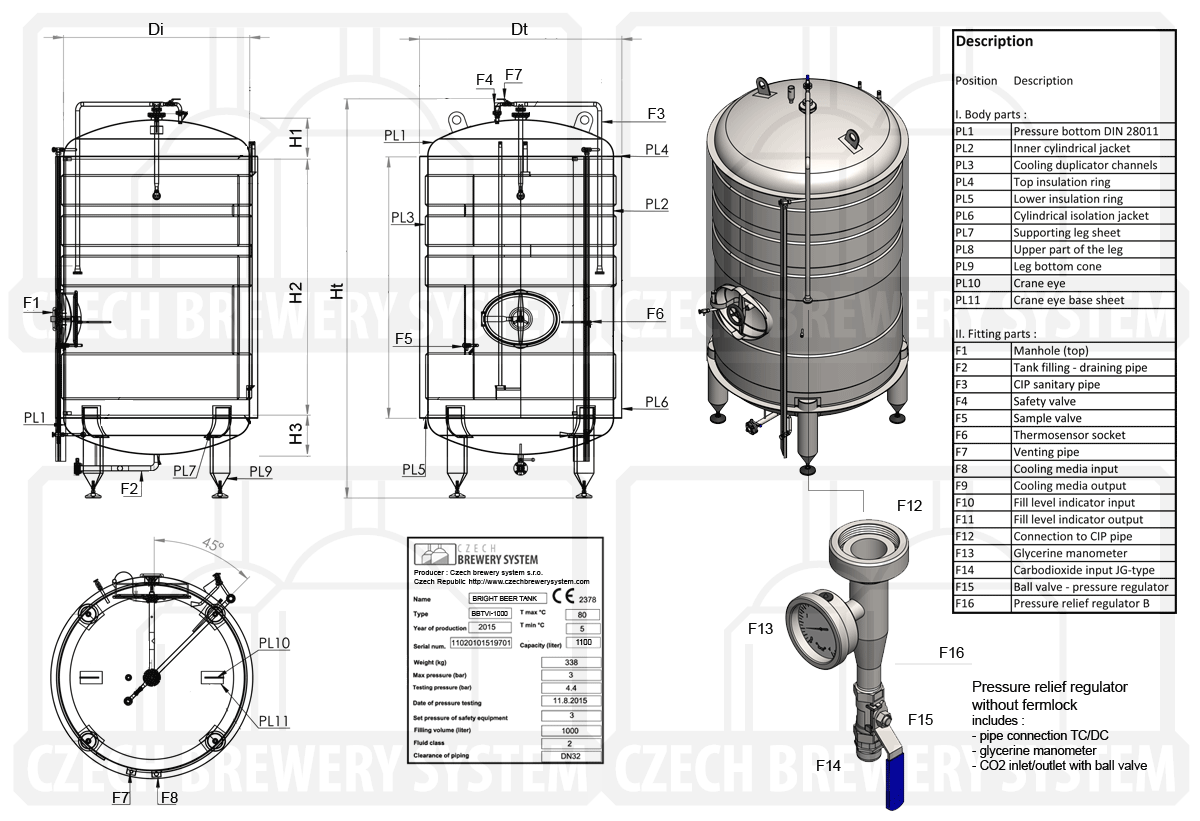 Description of the cylindrical beer pressure tank, vertical, non-insulated :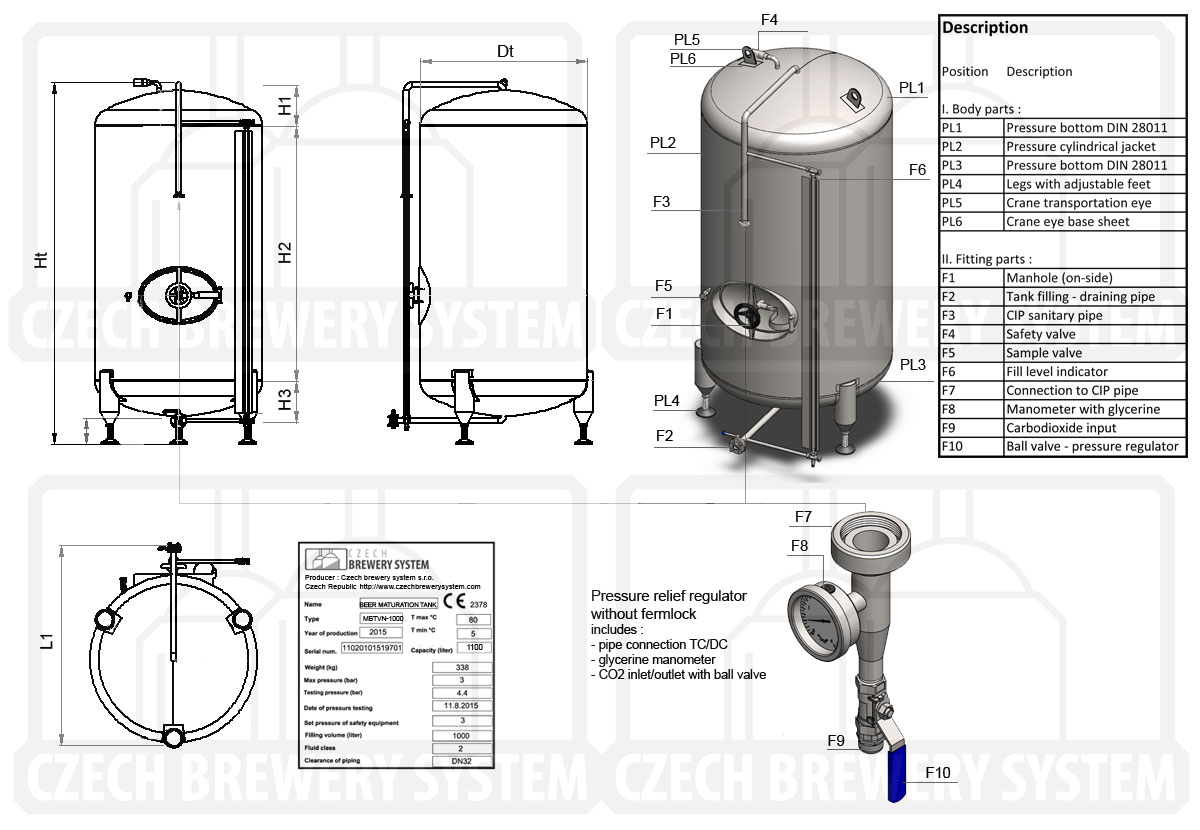 ---
Position of the cylindrical pressure beer tanks (BBT) as equipment in a brewery
---
Standard equipment – description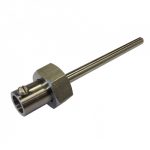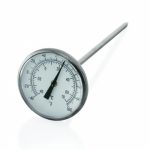 PED = Certification for pressure vessels required in all EU countries – the EU Directive PED 2014/68/EU Pressure Equipment
The manufacturer reserves the right to change the parameters according to the current availability of materials and fittings. A customer
will always receive our production drawing for approval before manufacturing the ordered tank.
Adjustable pressure valve – Overpressure setting mechanism with a glycerine manometer (standard range from 

0 bar

 up to 

3 bar

 ) – necessary for keeping beer under pressure during all operations with the tank
Cooling channels – duplicators for circulating of coolant in the cooling jacket (one, two or more according type of the tank)
PUR insulation – polyurethane insulation with thickness according to the size of the tank and the target environment (standard = 50mm )
Outer jacket of the tank of stainless steel – Kind of the surface finishing (standard = grinded) choosed by customer.
Guaranteed inner surface roughness : Ra < 0.8 μm or less (grinded surfaces) / Ra < 0.5 μm or less (polished surfaces)
Service door (manhole) on the upper arched bottom or on-site on the cylinder part, according to customer requirements (SQ = open inside / HQ = open outside)
Bottom filling/emptying armature – The inlet / outlet pipe with a butterfly valve for filling tank, discharging of yeast and draining of full content of the tank
Sanitizing ball-shower – CIP sanitizing ball-shower (SQ = statical / HQ = rotational) – one or more pcs
Sanitation pipe – a multifunction pipe with a ball valve for connection of a sprayball, CIP station (cleaning, sanitizing), the adjustable pressure valve with manometer, CO2 inlet
Sample valve – cleanable and sanitizable sampling cock for collection product samples
Safety valve – double-acting overpressure (standard = 3.2 bar) and vaccum protection (0.2 bar) safety valve – only pressure version of the tank
Venting valve – dedicated valve for safety draining of the tank and for accurate measuring of pressure in the tank with manometer (when the shower ball shower is blocked with a foam)
Thermometer socket – welded socket for inserting of thermosensor or thermometer (one or more according type of the tank)
Manometer – It is included in the set of the adjustable pressure valve. Made of stainless steel, with glycerine inside.
Filling level indicator – cleanable and sanitizable glass pipe for visualisation of product level in the tank (SQ = fixed / HQ = removable)
Transport hinges – steel welded hinges for safety transport of the tank with crane or forklift
Adjustable feet – 3 or 4 legs with rubber feet for accurate adjusting of the tank on an uneven floor
Type label – the steel label with all parameters that are required from European Union for pressure vessels

PED 2014/68/EU

 – certificate – the European certificate for the overpressure vessel + document for archiving history of the pressure vessel
Optional equipment – description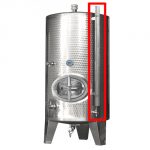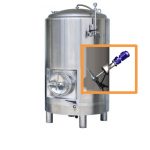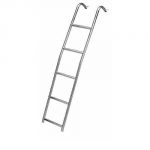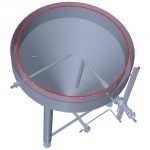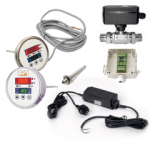 Adjustable pressure valve with a manometer and fermentation lock – A special armature that is designed especially to controlled fermentation and maturation of the beer (or sparkline wine or cider) under accurate set pressure.
Separator of sedimented yeast – a special removable short pipe that is designed to easy separation of yeast under a bottom from clear product above the yeast layer
Special doors – manholes – secondary site manhole, manhole with sightglass, manhole with glass door
Special cleaning-sanitizing ball-showers – rotational, pulse or other special cleaning equipment for extreme effective cleaning of the tank
Side or upper universal armature – Universal multi-use armature for connection of the flotation equipment, carbonization stone or the hop extractor for 

dry hopping

.
Scale for the filling level indicator – a liter scale on a cover of the filling level indicator for visualization of the current product volume in the tank
Scale for the adjustable pressure valve – a bar scale on a adjustable pressure valve screw for indication of just required pressure in the tank (a manometer shows the current pressure)
Temperature measurement and regulation components – we deliver several types of thermosensors, thermometers and also fully equipped temperature control systems for our tanks
Carbonization stone – the special porous stone for carbonization of beverages from CO2 bottles
Ladder – for easy operating with manholes and other upper accessories of tanks
Tank product filling hub – a special tool to easy filling of product (like beer wort , cider must) to the fermentation tank
Stirring equipment – to stirring contents of the tank, It is mounted on the side of the tank shell
Other customizations of the tank – according on customer´s requirements – non-standard dimensions, special armatures, special surface and design of the tank etc.
---
BBTXX – Cylindrical pressure beer storage tanks – produced types
According to customer requirements, we supply cylindrical pressure beer tanks in these variants in terms of cooling and insulation:
---
1. BBTXN : Pressure cylindrical BBT tanks, cooled by air, non-insulated
These cylindrical pressure tanks have the easiest construction and so it is possible to buy them for the lowest price. The beer tanks are in mono-jacketed version without any double cooling channels. Tanks have to be placed in insulated chilled room, where the space is cooled with air cooling unit. Their advanatage is their low purchase cost. And their disadvantage is that the temperature in each tank cannot be regulated regardless of the other tanks and the human operator comfort is lower because opertors work in cold and humid surroundings. The electric consumption is higher when tanks are cooled with air and not with the liquid. But this type of tank is the mostly used in craft breweries because of the investment savings.
We offer two variations this type of beer storage tanks :
---
2. BBTXI-S : Pressure cylindrical BBT tanks, cooled by liquid, non-insulated
The most frequently used beer storage tanks are price compromise between tanks cooled with air and insulated tanks cooled with liquid. They are more expensive than tanks cooled with air but cheaper than insulated tanks cooled with liquid. These tanks include double cooling channels and the cooling liquid pours through them (water or glycol), but they do not have any insulation and any outer cover jacket. We recommend to place the tanks in the slightly insulated uncooled room, where the redundant heating of tanks is limited. Their advantage is relatively low purchase cost and the disadvantage is higher electric consumption when the tanks are cooled and also the need of more powerful liquid cooler then it is needed with fully insulated tanks.
We offer more variations of this type beer tank :
---
3. BBTXI : Pressure cylindrical BBT tanks, cooled by liquid, insulated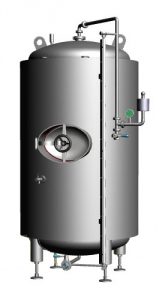 Insulated cylindrical pressure beer tanks cooled with liquid is professional solution for all restaurants keepers for whom the savings of operating costs are at the very first place. Tanks include double cooling channels and the cooling liquid pours throug them – water or glycol, and what's more the tanks have a cylindrical part (for some extra pay both bottoms could be insulated) insulated with PUR foam. The outer jacket is covered with insulation and it creates a clean design of stainless steel tank. It is possible to place the tanks in a non-insulated room because insulation provides the protection against unwanted escape of cold nearby the tanks. Their advantage is all above their low electric consumption when the tanks are cooled, the need of the less powerful liquid cooler and better comfort for operators who cannot work in cold room.
We offer two variations of this type beer tank :
---
We produce pressure cylindrical BBT tanks with variable dimensions and orientations
We can customize the dimensions and spatial orientation of the overpressure cylindrical pressure beer tanks according to customer requirements. We produce vertical and horizontal cylindrical pressure beer tanks, with the side-to-tank ratio being selected from several variants.
---
1. BBTVX : Pressure cylindrical BBT tanks, with vertical orientation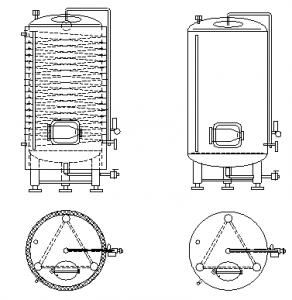 The vertical orientation of pressure beer tanks has many practical advantages:
Effective cleaning and sanitation of the whole tank with only one rinsing head (cost savings).
Easy manual cleaning of both inner and outer surface of the tank – usually it is possible to stand in the inside of the tank when cleaning and it is possible to walk around the tank.
Small space of floor area, effective usage of vertical room space.
Easy manipulation and access to all armatures and functional parts of the tank.
Precise tracking of product quantity in a tank using a level gauge.
We offer two variations of this type beer tank :
---
2. BBTHX : Pressure cylindrical BBT tanks, with horizontal orientation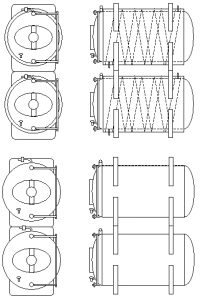 The horizontal orientation of the tanks is practical in breweries with insufficient height of the room dedicated for the location of the beer storage tanks.
Horizontal beer tanks can be installed in several levels to maximize number of tanks according to the available room height.
The main disadvantage of horizontally oriented tanks is, in particular, poor access to hidden parts of the tank, where is accumulated dirt, which can be the source of unwanted infections of yeast and beer.
We recommend the horizontal beer tanks only for breweries with a really low ceiling height in the beer cellar.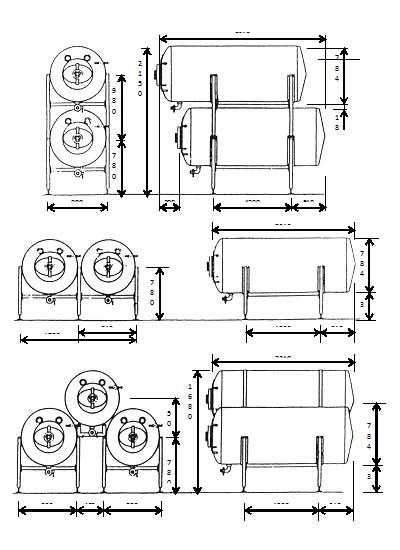 We offer two variations of this type beer tank :
---